Geometrical characteristics
Basic geometric characteristics of the band saw blade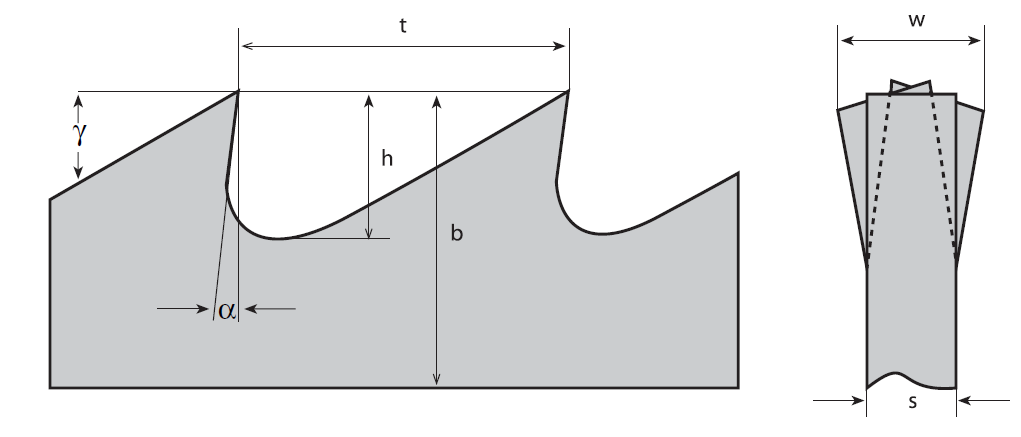 b = width of the band
s = thickness f the band
h = tooth height
t = tooth pitch
α = rake angle
γ = clearance angle
w = width of setting
Basic characteristics - width, thickness and length of the band are determined by the machine - band saw.
Tooth pitch, rake angle and width of setting significantly affects the cutting conditions and thus the quality of the final cut.
If you are unsure about selecting the band saw blade for your application, do not hesitate to contact our sales representatives who will be happy to help you with the choice of the band saw blade.
Tooth setting
Tooth setting (misalignment of the teeth to the side) is necessary to make wider slot in the workpiece than the body of the band is. Without setting there would be excessive friction, growth of energy consumption and increasing of cutting temperature. Accuracy of setting is critical - significantly affects the quality of the cut and the overall life of the band saw. In the production of PILANA Metal the precision is 100% inspected. In modern production processes is used to control the contactless measurement by means of CCD cameras.
There are many kinds of setting for both constant and variable pitch. The most commonly used is the group setting which comprises one scraper (not separated) tooth, and then alternating deflection of the tooth to the left and right
Set patterns:
Standard - used for bands with a constant pitch < 10 TPI
Variable - group setting for bands with variable tooth pitch
Wavy - band with very fine TPI 14 - 32 TPI
Variable progressive - group setting with progressive width of setting along the group
Setting measurement
Accuracy of tooth setting significantly affects the cutting conditions. The main criterion is constant width of teeth on both sides. Given the importance of the proper distribution is during the production given great attention to quality control. The width is controlled automatically, Using a CCD camera, which controls the setting with accuracy 0.002 mm.